Post by topwaterbass on Jul 3, 2013 14:23:53 GMT -5
Got up at 3am to fish with Raisin' Striper at first light. Met him at the dock at about 5:50 and we headed out got our bluegills and shad in the water, It wasnt but a few minutes and one of his rods bent over. He hands me the rod and the fight was on, but then he got off. Reeled the line in and that striper scaled the bluegill. Re baited and just a few minutes later the middle rod on my side goes, and now the fight was really on drag screaming and fish diving and all. This was my first true striped bass and measured 34inches. So at this point I am already thinking this was the best day fishing I have had in awhile. So I re baited put the rod back out moments later the back rod on Doug's side goes down Fish On! This one felt more powerful and was taking drag instantly doubled the rod over and had me walking most of the boat and I managed to keep it out of the prop. got the fish in another 34incher back to back and I limited out. Re baited and it wasnt very much longer Doug's middle rod if I remember correctly went down he got his first on and its a whale. He fights this thing for what seemed like a very long time it had him all over the boat lines started getting tangled and finally able to get it in the net. A nice chunkie 36incher weighed in at 22lbs. Re baited and made a few more passes and it was silent for awhile. Started putting fresh bait on again and one of Doug's rods goes turned out to be a channel cat in the 25in range. A few moments later another rod goes down and fought him for a bit and he broke off. Re baited a different rod and got it out there with some more fresh bait. Moments later another rod went down I grabbed it that fish started going everywhere come to the surface and I lost him. We headed for home after that we were both pretty tired. Wow this was one of the best fishing days I have ever had! Doug is a great guy and great company and I was very honored just to be able to meet him let alone fish with him. Wont forget this one ever! A big thanks Doug for getting me out for my first true stripers!
Here are some pics!
By this tome Doug was getting hungry!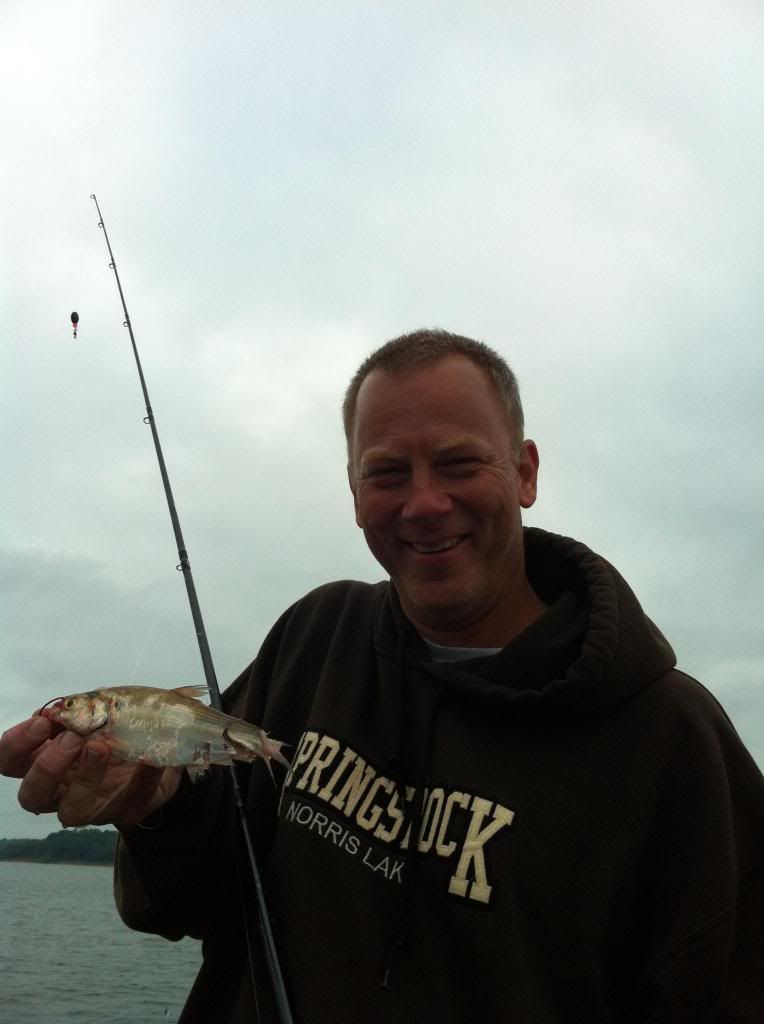 Doug's big one to the left and one of my smaller ones
What a awesome day!