Post by strippitman on Feb 24, 2015 8:38:54 GMT -5
Went to Potato Creek after work on friday to meet a couple of friends on the ice and see if we could bag a few fish. I got out on the ice about an hour after they did. As I was heading out I bumped into an old friend that I hadn't seen in a while and he was walking off with a limit of crappie. He said I came at the right time because the bite was hot. When I got out to where my friends were fishing they already had a few gills and over a dozen crappie's each on the ice. I got all set up and for me it was gill after gill non stop. I couldn't get a crappie! I was getting discouraged. Finally, just before dark I nailed a couple of keeper crappie. I decided to stay for a while after dark to see if I could get a few more. I did pick up about 6 more keepers and 4 shorts. The interesting thing was I stayed until 9:30 and the bluegill action was still fast and furious when I left. I must've caught a hundred bluegills that night. My buddies left right at dark with each of them having a limit crappies. Hard to believe I could be 20' away and couldn't get many crappie. The problem I was having was that the bluegills wouldn't inhale my bait as soon as I dropped it down the hole not giving the crappie a chance. I tried going to a larger jig and the bluegills still annihilated it. I swear they would've bitten a dog turd if I had one on.
After hearing about the hot bite both of my kids wanted to go on saturday. Since I don't have enough warm clothes and boots for both of them (they share) to wear at the same time I could only take one of them on Saturday. It was my oldest sons turn to go. I think the kid is hooked on ice fishing now. I gave him my flasher to use and I fished blind. Of course we headed right back to "Spud Creek" on Saturday afternoon. As we were walking out I realized my spot was taken so I was getting a little discouraged. I decided to keep heading to "my" spot and see if the guy that is fishing there cares if we slip right in and fish with him. Lo and behold, it's another guy I've known for years fishing with his 2 young kids. They had a nice pile of gills and 1 crappie on the ice. So me and Evan slipped right in and fished with them. I picked up right where I left off...one gill after another. Then I started figuring the crappie out. Bounce your jig non stop to keep the bluegills off and then the crappie will bite...usually. I was catching a few crappies out of the one hole I was fishing out of and my friends son asked me if he could fish my hole. I didn't mind so I let him fish my hole. After he caught about 10 gills I showed him how I was catching the crappie and he caught one! He was tickled to death. We fished from about 2-7 and I swear I caught at least 200 gills and about 15 crappie! They weren't the biggest gills but they weren't bad. A lot of 6"ers with some 7's and a few 8's.
My son with his first fish of the year...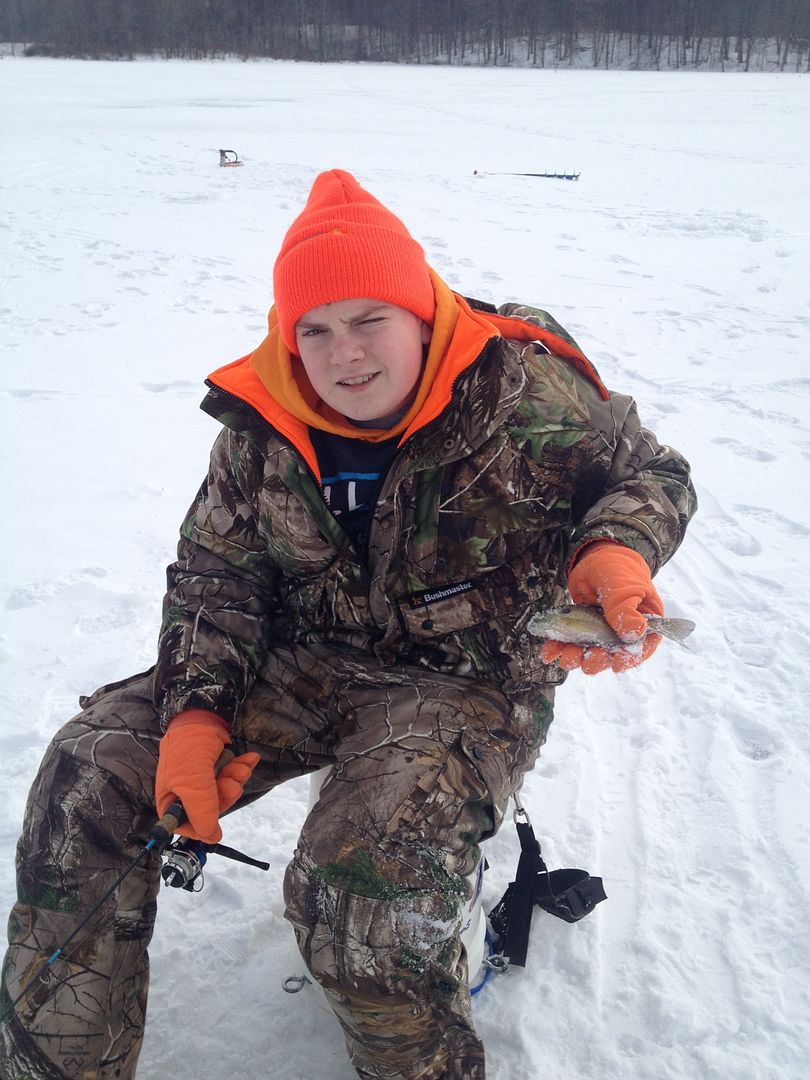 And his first crappie...
My friend's son, Brodie, with his crappie from my hole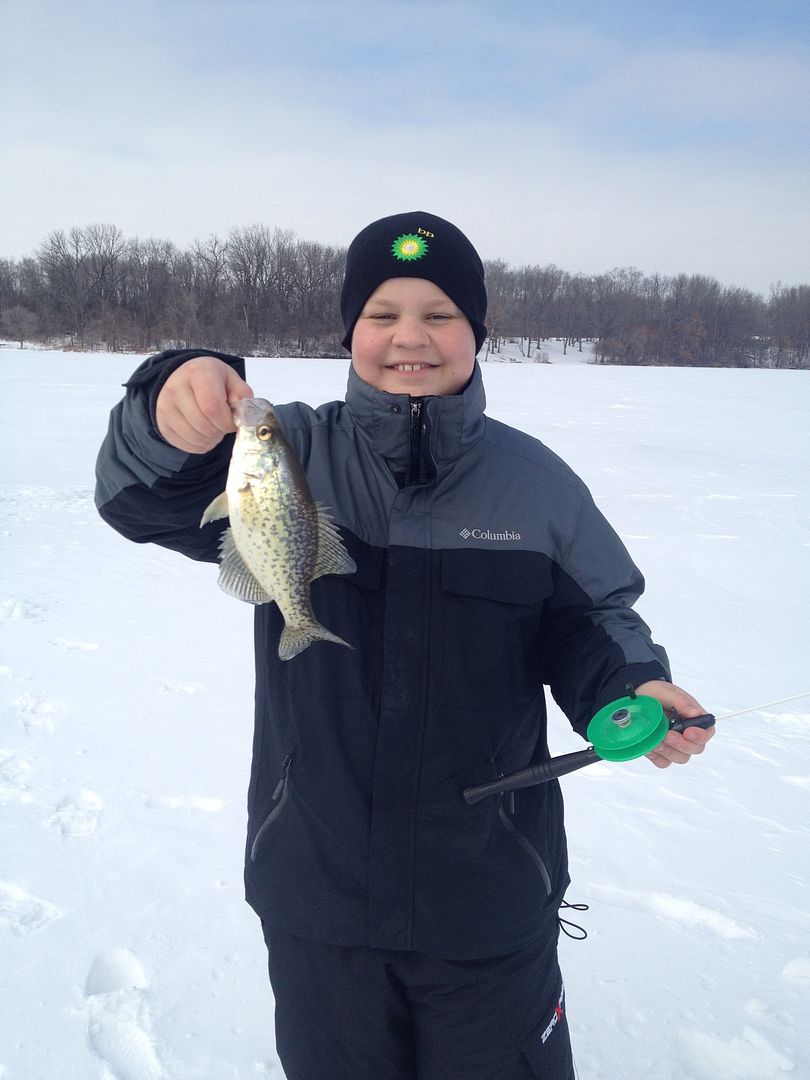 On Sunday, of course, my youngest son wanted to his turn to ice fish. So we headed back. The bite wasn't near as good on Sunday. The weather was more of an issue especially the wind. My son only lasted about an hour and a half before freezing out. I purposely didn't take the shanty out because I wanted to at least catch the end of the daytona 500 and I knew he would freeze out soon enough for me to get back and watch it I ended up catching 17 gills and 0 crappie and Easton caught about 10. I let him keep a few of those to throw in with our collection from the weekend. It looks the hot bite is dying out here and it's time to search for the next hot bite. It was a blast while it lasted though!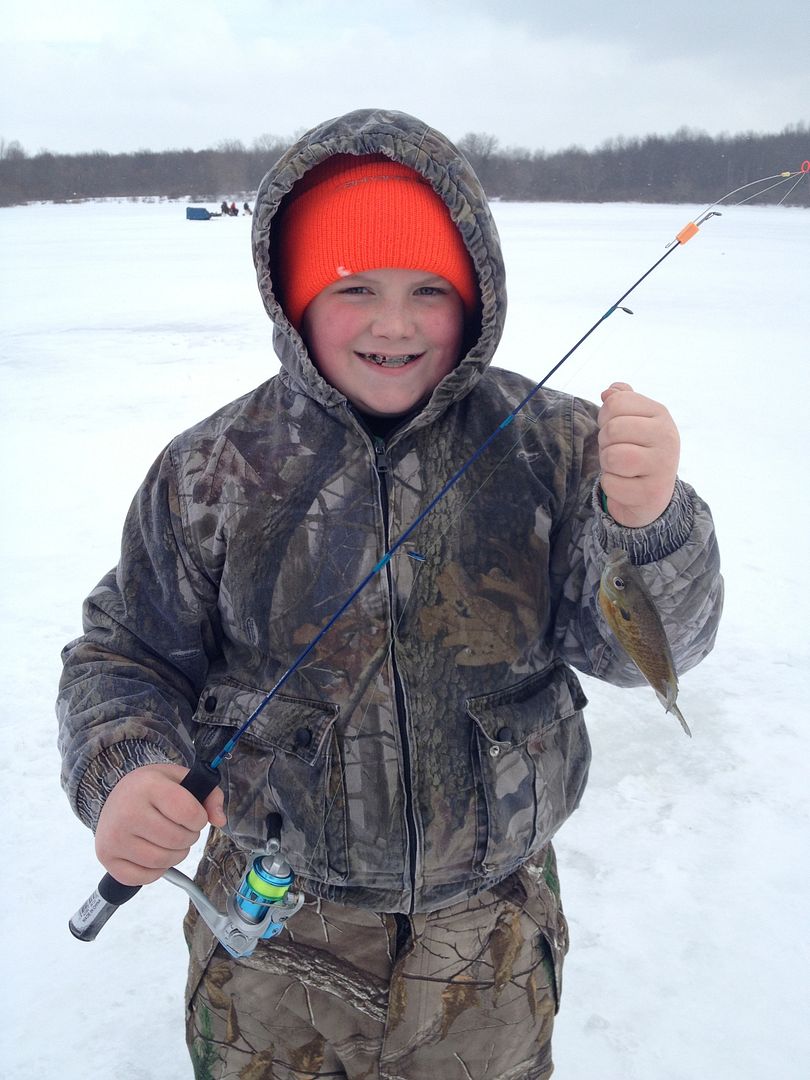 This kid is much more of a fisherman than his older brother. Older brother still struggles to take his own fish off the hook. I never have to take them off for this kid...
On the way home I got a phone call from friend who I ended up fishing with on Saturday and he has a really bad back. He said that he had cleaned all the fish that his back could handle and he wondered if I wanted the rest. So I swung by his house and picked up about a half a bucket full from him. Here's the pile I cleaned last night...